Used Gear Spotlight
Select used items that deserve their own moment in the limelight
Please remember that all the items listed below has already sold.
We were lucky to have this clean copy of the legendary 75mm Summilux come into our shop the other day. This lens is purported to be the favorite lens of the legendary lens designer Walter Mandler. With a 10 blade diaphragm, unique glass formula, and a minimum focusing distance a little under 2.5 feet the 75mm makes for an incredible portrait lens with virtually no coma or chromatic aberration.
This lens has been checked by our experienced camera specialists and comes with the original lens pouch and our 90 day warranty. With optional 2 year extended warranty.
Canon 300mm f/2.8L IS USM
Watch out ladies and Gentlemen, we got a T H I C C boi coming through. This 300mm has a fast aperture and snappy auto focus making this a Canon Sports and Wildlife Photographer's dream lens. You could also use it's hefty, yet easily manageable size to impress strangers at the zoo! With an MSRP of nearly $5,000 this lens used is a steal at a mere $2350.00. come on down and see this and the other big ol' white lenses we have just waiting for an individual with fine taste and deep pockets to come along. Not too deep though, the pocket depth needed to buy a lens like this are more like those weird little pockets on the inside of the big front pocket, like what are those for anyway? nails? toothpick? …. An Ipod Nano from 2011?…. What was I talking about again? Oh yeah come buy this thing, we need space in our case for other stuff.
Posted: 1/9/2019
Used Nikon AF 135mm F2 Defocus
One of the world's great portrait lenses, this DC lens allows the user greater control, specifically Defocus Control. DC is a term which is somewhat lost in translation from it's Japanese origin. Defocus is a feature that is designed specifically to enhance bokeh and ability of the user to fine tune the depth of field under all conditions.
Click on the link to learn more about this lovely lens

Posted: September 18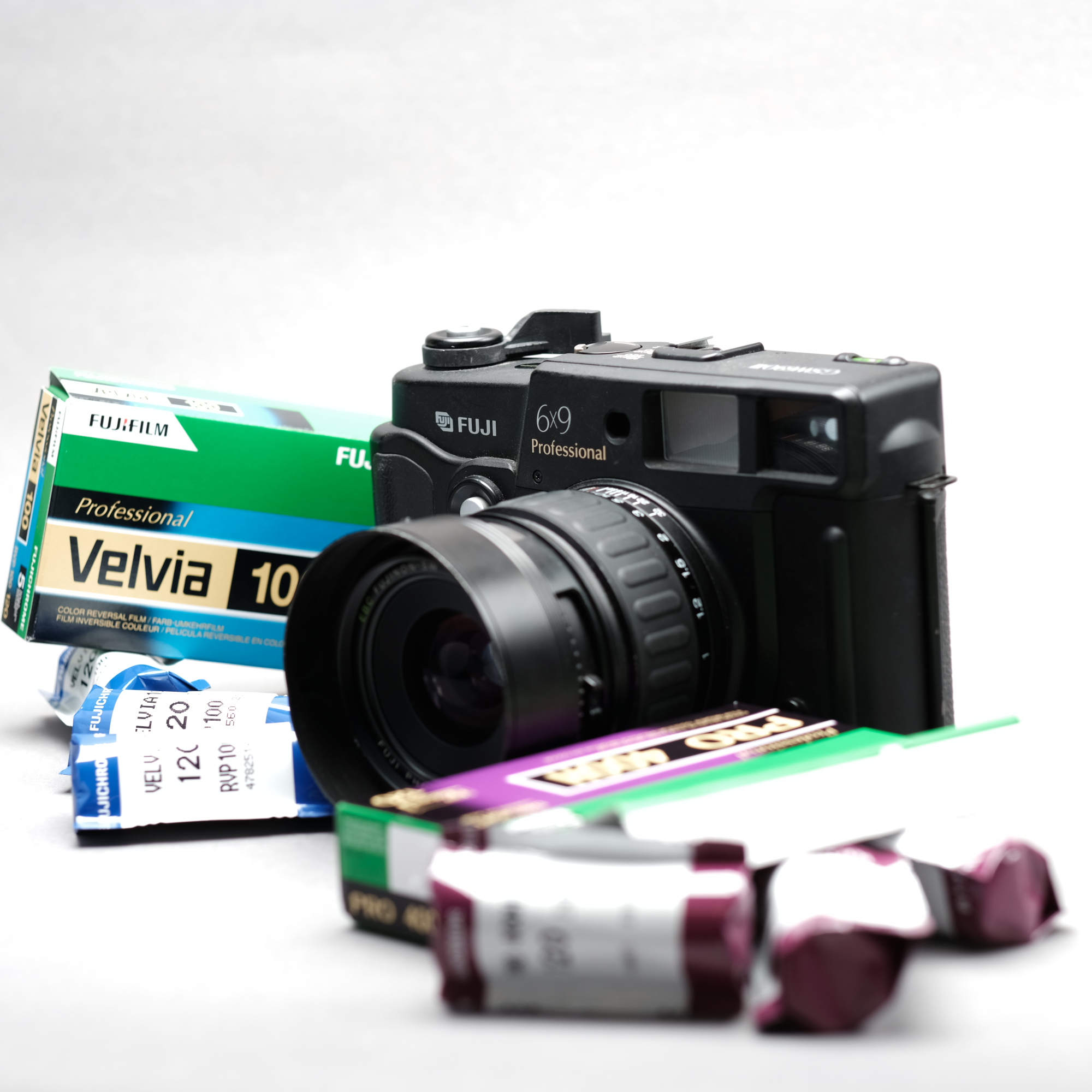 Used Fujifilm GSW690 III 6x9
Finally a camera made for the big handed photographers out there. The Fuji 6x9 rangefinder camera is sometimes referred to as the "Texas Leica" due to it's tremendous size and optional Stetson hat flash shoe cover (sold separately). The GSW690 III are not rare but those people who own them tend to hold onto them like a cowboy wrasslin a pig. This one won't last long so if you want it come on in to the store or order it before someone else does!
5x7 Deardorff Large format film camera & Schneider lens
Are you old and bitter about the emergence of digital photography? Are you a hipster that needs a camera to accessorize your man bun and vintage Redwing boots? Or are you a photographer with unquestionably good taste in gear and a desire to have an ultra high resolution image without spending a year's salary on a large format digital camera? I present to you, the Deardorff 5x7 field camera! This camera is a product of a bygone era in which cameras were built to last the test of time and look good doing it! Based upon the serial number (374) we have determined this camera to be from the mid 50's and the hardware has the patina to show for it! If you're wondering we do still sell sheet film for these cameras so come on down and see a truly beautiful piece of kit.
☭ГЕАЙОС-81H☭
Helios-81H, 50MM F/2 - Nikon F Mount-
Good day comrade! Come let tell you of glorious Soviet Helios camera lens. Helios lens is of top quality Soviet design. Some claim this lens merely poor copy of Zeiss Jena lens but this nothing more than counter-revolutionary propaganda! The capitalist pigs used make fun of Helios lens for being "cheap' and for have "swirl" bokeh and highlights which glow like teachings of Comrade Lenin! These thing that once make fun of Soviet lens now make lens desirable for unique look at price even dirty peasant farmer can afford! Come and see now, comrade!
Sony FE 70-200 f/2.8 GM OSS
We already had one of these used and it only lasted a few days! With a minimum focus distance of 3 feet, Sony's Extreme Aspherical element and lightning quick auto focus this lens can handle everything from portraiture to sports!
Posted: July 14
PC-E Micro Nikkor 85mm f/2.8 N
Commercial photographers rejoice! The 85 PC-E is a full frame tilt shift lens. Nikon's Close Range Correction system allows this lens to focus at a wide range of distances by utilizing a floating lens group design. The 1:2 macro perspective will make this lens right at home in any commercial studio or macro photographer's gear bag. The used copy we have is very clean and with our 90 day warranty is a home run for any serious photographer that needs a seriously versatile lens.
Rolleiflex 3.5F & Accessories
This classic twin lens, medium format camera is in great condition with only a few cosmetic flaws. The meter is non-reliable, but that is expected with any decades old selenium meter and can be overcome with one of the free light meter apps for your smart phone. This camera comes complete with a brown leather case, set of 3 Rolleinar close up lenses and the original owner's manual, all of which are in remarkably good shape.
Need to do a natural light photo-shoot at midnight? Want bokeh so creamy you could you could put it in your morning coffee? This 55 nikkor will deliver that and more at a reasonable price! Although there is one little piece of debris trapped within the elements, it is small enough and far enough away from the focal plane that it cannot be seen when attached to the camera. (The bit of junk don't show up in the pictures) The glass is super clean and the focus is smooth. This lens would be killer for video on any modern mirrorless camera along with the appropriate adapter.
Posted: July 12